A Pastor's Perspective

Peace,
---
The church office will be closed
Monday, September 5th for Labor Day.
Reopening Tuesday, September 6th at 9 AM
Have a safe holiday!
---
Christian Women's
Fellowship
CWF resumes their regular
monthly schedule on September 7th. 

Group II meets
the 1st Wednesday of each month at 10 AM.* 

Service Day meets the 2nd Wednesday
of each month at 10 AM.

Executive Meeting meets the 4th Wednesday
of each month at 10 AM.

All ladies of the church are welcome to attend!

*Group III meeting dates/times may vary
and will be posted before each meeting.
---
Chancel Choir has resumed!




Wednesdays at 7:00 PM

Now is the time to join!
If you have any questions, reach out to
Dylan Madoux or a choir member.
They would love to have you.

Let's make a joyful noise – TOGETHER!
---
Hello Deacons and Elders,

We are so thankful for your service to the church. We are working on making our church an even more welcoming place, so we will be adding greeting duties to the deacon and elder roles. We look forward to hearing your ideas! Mark Benge and I will have a meeting on September 11th at 6:00p.m. to discuss these duties and create a schedule. After this initial discussion, we will be breaking off into separate rooms for each role.
 
Additionally, we have several deacons and elders that will fulfill their terms this year. So if you are interested in being a deacon or elder, please come! We would love to have you!
 
We look forward to serving together,
Mark Benge and Christi Miller
---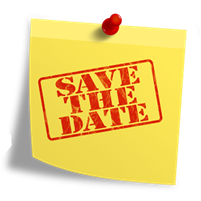 Sunday, September 18 at 5:00 pm
Hot Dogs & Ice Cream Social
Make plans now to attend our next churchwide fellowship in the JCAC. After our meal we'll build a campfire at the fire pit! Bring your lawn chairs and maybe a little blanket if the night air is cooler! If you're able to provide homemade ice cream,
please let Beverly Rubino know as soon as possible.
Thank you!
---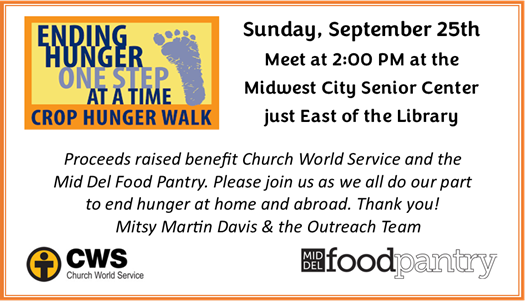 ---


Flowers for Sunday September 4 are given by Paul Niehoff
In loving memory of his wife Shirley, and their mothers;
Lillian Stewart, Peggy Niehoff and Hollie McCaulley



Flowers for Sunday, September 11 are given by Walt & Katy Givens
In loving memory of Dorothy Givens on her birthday
---


Dear FCC,

Thank you to my church family for all the cards, prayers and concern for my son Kevin during his recent health scare. He is doing much better but please keep those prayers coming!

Sincerely,
Paul Niehoff
---
Giving Online
Log into MyFCC at: fccmwc.org/my-fcc
Select Give from the dropdown menu on the top left.
Follow the instructions to set up a
recurring gift or send a one time gift.
If you have questions, please watch this video:
https://player.vimeo.com/video/170043827
Or mail your contribution to:
First Christian Church of Midwest City
11950 E Reno Ave
Midwest City, OK 73130
When dropping your offering in the church mailbox, please make sure it slides all the way to the back of the slot so that it drops down into the lock box area. Thank you for your faithfulness!
---
Please contact the church office with new prayer concerns and with updates on those who are listed.
Thank you!
Prayer Concerns
*Family & Friends of Larry Parish (Dustin Parish's father); *Gina Rush (Becky Searcy's sister in law); *Family & Friends of Robbie McGruder (we were recently told that Robbie passed in June); *Charlie Stanfill; *Chuck LaVigna (Susan Updegraff's brother); *Lori (Gene Harkins); *Wendy (Gene Harkins) 
Congregation Long-Term Prayer List:
Katy Benge: Fern Burling; Joyce Dowling; Lyle & Lillian Fry; Katy Givens; Joe Greffin; Carol Hamilton; Keith & Bonnie Hand; Karen Holland; Susie Howard; Tanni Jamison; Richard & Mary Layman; Sandy Lees; Becky Long; Nancy Mitchell; Rev. Lee & Mary Nirschl; George Pettigrew; Nell Reed; David & Vicki Richey; Millie Sawyer; Wanda Williams; Clara Lee Winders; Jim Wylie

Shut-Ins Prayer List:
Lola Jean Ashford; Virginia Douthitt; Dr. Gifford McBride; Bertha Owen; Cole Padgham; Margaret Scears; Barbara Wilson
Family/Friends Long Term Prayer List: 
Ronnie Butler (Jamison); Lisa Coffman (Stanfill); Kane Dameron (Harkins); Amber Bowman Dougan (Niehoff);  Betsy Hormel (Leah Wakely's aunt); Barbara Jordan (Gilbert); Gary & Brenda LaVigna (S Updegraff); Abbey Lawson (Simmons); Cynthia Harkins Lawson (Gene Harkins); Paul Lloyd (Bonnewell); Jodie Macdonald (Wheelan); George Niehoff; Kevin Niehoff; Michael Niehoff; Ida Lou Pettigrew; Cate Schreiber (Christensen); Jim Sidwell (Moler); Suzanna Smith (Lees); Todd (Brocker Becker's friend); Megan Tucker (Harley); Leon & Mary Walters (Walters); Lucille Williams (N Williams); Kenny Winders (Clara Lee's son); Cindy Winkle (Fennell); Tom Wood (Kitchell; Tina Youngblood (Leah Wakely)
If your prayer request is no longer listed and you would like to have it put back on, please call the office 405-769-2717 or email request to [email protected]
Thank you!
---
Join us for in-person worship on
Sundays at 10:00 am
and Sunday School at 11:00!
We are also streaming live on the YouTube Channel.
https://www.youtube.com/user/FirstCCMWCOK
Please do not hesitate to reach out if you have any questions.
Church Office: 769-2717
email: [email protected]
---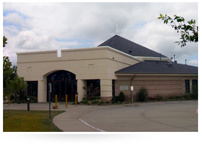 FIRST CHRISTIAN CHURCH MWC
(DISCIPLES OF CHRIST)
11950 East Reno Ave
Midwest City, OK 73130
405-769-2717 
[email protected]
---
FOLLOW US AND STAY CONNECTED ON SOCIAL MEDIA:
FACEBOOK Search name:  First Christian Church MWC
INSTAGRAM Search name: FCC Midwest City
YOUTUBE Search name: First Christian Church Midwest City
Also check out the church's new and improved website!
www.fccmwc.org
---
Disciples Around the Web
www.disciples.org
www.okdisciples.org
www.weekofcompassion.org
Disciples News Service