A Pastor's Perspective
Thank You! – For all of your prayers, calls, texts, and cards after I experienced some heart rate issues and spent a few days in the hospital last week. Things are better, and all that is left is the all of the follow-up appointments!
More Thanks! – One of the things I love about being here at FCC is the willingness to answer a call to help. Last week's snow created problems for our parking lot, sidewalks, and front entrances. We put out a call to get these areas cleared for Jim Sharp's funeral service last Saturday. Check out these pics of our snow (and ice) team! They showed up and made our property safe! Pictured here are Mark Benge, Benny Gilbert, Denise Jenks, Mark Reid, David Suffridge, Rosemary Suffridge, Mitchell Taylor. Thanks to the crew!
Peace,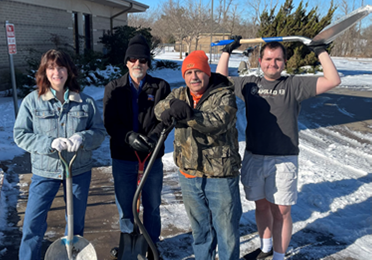 ---
Youth
Every Wednesday night
from 6-8 pm in the JCAC.
Dinner begins at 6 pm. See you there!

If you would be able to help by providing
the Wednesday night meal for the Youth Group,
please contact Bev Rubino at (405) 426-2685.
She can give you all the details!

Thank you for supporting the students at FCC MWC!
---
Youth Party
RESCHEDULED TO Sunday, February 27
4 to 6 PM in the JCAC
$2 per student
Raffle · Games · Food
Disciple Youth groups from across the metro have been invited!
Bring your friends and get reacquainted with old friends from camp!
If anyone would like to donate teen appropriate raffle prizes,
we would appreciate it very much! Shauna
---
Join us for in-person worship or streaming live on Youtube: 
Sundays at 10:00 AM
Stay for Sunday School at 11:00 AM

Share the link with your family and friends!
https://www.youtube.com/FirstCCMWCOK
---
BOARD MEETING
SUNDAY, FEBRUARY 12 at 1:00 PM
ZOOM and In Person at the church
Contact Church Office for meeting details.
---
WORLD OUTREACH
Who's ready for spring cleaning?
Please consider donating to one of our on-going outreach activities:
Prescription glasses
Aluminum pop tabs for Ronald McDonald House
Paper bags for Mid-Del Food Pantry
Empty and clean prescription bottles for the Free Medical Clinic
Clothing donations dropped in the Pink Box in our parking lot which benefits Children's Corner
Other than the clothing, donations can be left in the narthex. Thank you!
Donations for Blanket Sunday are still being accepted. Thank you to those who have already donated. Your gifts make a difference!
Packing more boxes of food for our Midwest City CFO Families!
Week of Compassion
Special Offering
February 20 & 27
---
WORSHIP LEADERS NEEDED:

If you would like to participate in the Sunday worship service as the Worship Leader, the sign up is listed on MyFCC. Go to:

GROUPS
FCCMWC
NEEDS
WORSHIP LEADER SIGN UP

If you do not have access to MyFCC or need help signing up, please call the church office 405-769-2717. If you have any questions about anything, call Gary 405-245-8678.
---
2021 Giving Statements and 2022 Giving Envelopes are available in in the narthex.
Please check your giving number, as it may have changed. If you do not find a box with your name and would like to receive one, please contact the church office at 405-769-2717.
---
Giving Online
Log into MyFCC at: fccmwc.org/my-fcc
Select Give from the dropdown menu on the top left.
Follow the instructions to set up a
recurring gift or send a one time gift.
If you have questions, please watch this video:
https://player.vimeo.com/video/170043827
Or mail your contribution to:
First Christian Church of Midwest City
11950 E Reno Ave
Midwest City, OK 73130
When dropping your offering in the church mailbox, please make sure it slides all the way to the back of the slot so that it drops down into the lock box area. Thank you for your faithfulness!
---
Flowers for Sunday, February 6
were given by Linda Harris
In loving memory of her parents,
Gary & Doris Munford on their anniversary
Flowers for Sunday, February 12
are given by Maxine Wheelan
In loving memory of her mother,
Eunice Liebert on her birthday
---
2022 FLOWER CALENDAR – DATES AVAILABLE
The chancel flowers serve a few purposes. It's a way to honor your loved one, they add to the beauty of the sanctuary, and following the service the bouquets are delivered to two of our shut in members.
Please note, the cost of the flowers will go up beginning in January to $55.00 per week. This is the first price increase in several years.
Thank you for understanding the need for the increase.
---
Please contact the church office with new prayer concerns and with updates on those who are listed.
Thank you!
Prayer Concerns
Family & Friends of Lane Ross; Family & Friends of Jim Sharp; Connie Sharp, Sienna Rehab; Vicki Richey; Danielle Davenport (Aaron); Pat Nolen (Wiseman); Lesa Choate (Beckie's mother in law); Kathleen Woodruff (Burk); Johnnie Gasaway, recovering from hip surgery
Congregation Long-Term Prayer List:
Fern Burling; Joyce Dowling; Lyle & Lillian Fry; Katy Givens; Joe Greffin; Karen Holland; Tanni Jamison; Sandy Lees; Becky Long; Shirley Niehoff; Rev. Lee & Mary Nirschl; George Pettigrew; David & Vicki Richey; Lane Ross; Millie Sawyer; Connie Sharp; Jim Wylie
Shut-Ins Prayer List:
Lola Jean Ashford; Virginia Douthitt; Dr. Gifford McBride; Bill & Robbie McGruder; Faye Miller; Bertha Owen; Cole Padgham; Margaret Scears; Barbara Wilson
Family/Friends Long Term Prayer List: 
Lisa Coffman (Stanfill); Amber Bowman Dougan (Niehoff); Braeden Fennell (Phyllis Fennell's grandson); Brian Foughty (Phyllis Fennell's son-in-law); Betsy Hormel (Leah Wakely's aunt); George Niehoff; Michael Niehoff; Megan Tucker (Stanfill); Lucille Williams (N Williams); Cindy Winkle (Fennell)
If your prayer request is no longer listed and you would like to have it put back on, please call the office 405-769-2717 or email request to [email protected]
Thank you!
---
Join us for in-person worship on
Sundays at 10:00 am
and Sunday School at 11:00!
We are also streaming live on the YouTube Channel.
https://www.youtube.com/user/FirstCCMWCOK
Please do not hesitate to reach out if you have any questions.
Church Office: 769-2717
email: [email protected]
---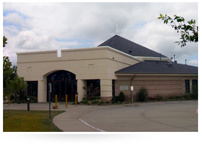 FIRST CHRISTIAN CHURCH MWC
(DISCIPLES OF CHRIST)
11950 East Reno Ave
Midwest City, OK 73130
405-769-2717 
[email protected]
---
FOLLOW US AND STAY CONNECTED ON SOCIAL MEDIA:
FACEBOOK Search name:  First Christian Church MWC
INSTAGRAM Search name: FCC Midwest City
YOUTUBE Search name: First Christian Church Midwest City
Also check out the church's new and improved website!
www.fccmwc.org
---
Disciples Around the Web
www.disciples.org
www.okdisciples.org
www.weekofcompassion.org
Disciples News Service